Serie CRONO CONTINI "basic"
Quartz clock movements sweep economy
Due to its continuous rotation without the classic tic-tac, the quartz clock movements sweep economy of our CRONO CONTINI "Basic" Series makes this movement quieter and more elegant. It is available both with or without the plastic hanger. The plastic hanger guarantees the support of a clock weighing less than 800 grams. It is different from the others due to its transparent case and the personalization with our new brand "CRONO CONTINI". Available in three total shaft lenght sizes: 13 mm, 16 mm and 22 mm. Possible metal hanger or back support (see the Accessory section). The metal hanger can sustain a wall clock with a maximum weight of 1.5 kg. The back support can sustain a maximum weight of not more than 2.5 kg.
Our CRONO CONTINI "Basic" Series clock movements are guaranteed for metal hands up with length of 12 cm from the center of the clock.
Quality Control
Our movements undergo a 100% quality control at the origin and a further detailed quality control within our company following the AQL II criteria (see the Quality Control section). We comply with specific CE and RoHS directives. Warranty of 2 years. Powered by 1.5V AA battery.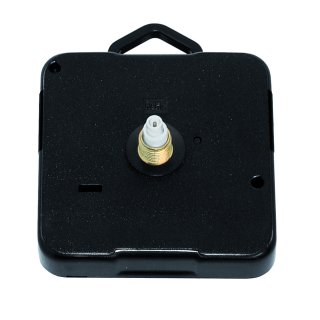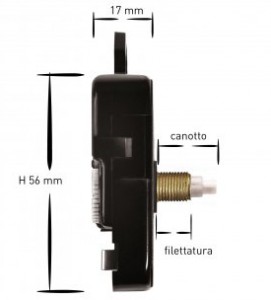 ART: MQSC - CRONO CONTINI
Description:
Continuous CRONO CONTINI Series clock movement available with or without plastic hanger, in the following sizes:
Total shaft lenght 13 mm (shaft lenght to screw 7 mm)
Total shaft lenght 16 mm (shaft lenght to screw 10 mm)
Total shaft lenght 22 mm (shaft lenght to screw 16 mm)