Clock movements Series CONTINI "quality"
Precision quartz clock movements quality. The selection of quality components make these extremely silent clock movements and rigid highly reliable controls, with an average defectiveness not exceeding 1%.
They are available with or without the plastic hanger. Possibility of metal hanger or clock back support (see our category "optional"), out of price. The plastic hanger is guaranteed to support the weight of a wall clock less than 1 kg. The metal hanger supports a weight clock less than 1.5 kg. The plastic round clock back support a maximum weight of 2.5 kg.
Our clock movements SERIES CONTINI "quality" drag metal hands offset in length up to 21 cm from the hole center.
Among the available variants we have the ultra-silent continuous rotation clock movements, the counter movement and the movement 24 hours.
Quality check
Our clock movements undergo a 100% quality control in production and an additional quality control following the criteria AQL2 (see our "Quality Control" section).
Comply with the relevant EC directives and RoHS. 2-year warranty. Powered by AA battery AA 1.5 V.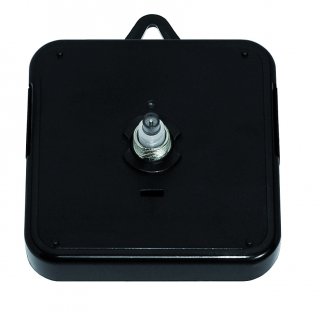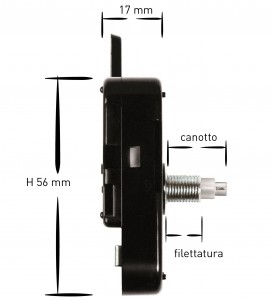 ART: MQW
Description:
Clock Movement CONTINI series, available with or without plastic hanger, in the following measures:
Total shaft lenght 11,5 mm (shaft lenght to screw 5 mm)
Total shaft lenght 16 mm (shaft lenght to screw 10 mm)
Total shaft lenght 19 mm (shaft lenght to screw 13 mm)
Total shaft lenght 24 mm (shaft lenght to screw 18 mm)